We are going to review a great training aid for your boxing, This piece of equipment will increase your speed, reaction speed and improve your overall fitness, burn calories and eye coordination. Champs MMA boxing reflex ball. Looking at the boxing reflex ball training. This is also great fun and ideal for home training. Great price, easy to wear, lightweight, small able to take anywhere will fit into a small bag supplied.
Getting Started
This Champs reflex ball set is great you get 4 different balls for 4 different difficultly levels
Level one Ball NEWBE colour black, ideal to start with
Level two Ball VETERAN colour blue, next move onto this ball
Level 3 Ball BOXER colour red, next move onto this ball
Level 4 Ball BEST MODE (smash your limit) soft red, this ball bounces back the fastest (taking your eye hand coordination to the next level
Comes with a small bag to carry all the items.
This unit has adjustable string and headband making it great for adults or kids see below: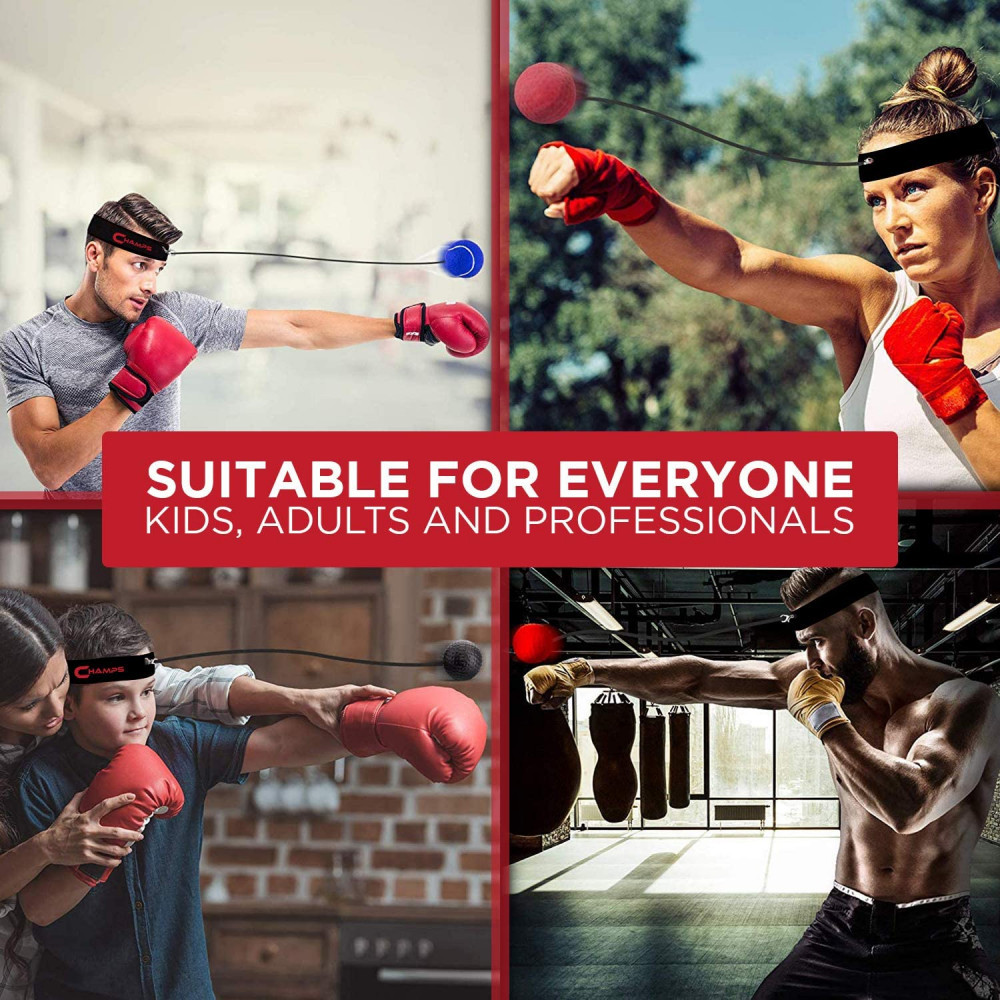 The reflex ball is not easy to use but stick with it and be patient and consistent, you will soon master it ball by ball, No experience in boxing or martial arts needed and the great thing almost anyone will get the hang of it very quickly.
Come in parts but, takes only a few minutes to set up, easy to follow instructions are provided.
Things to be mindful of, Do not hit the ball too hard as it will return very fast and may hit you in the face.
You will need to start slowly hitting the ball light and keeping a steady rhythm, as you progress you will be able to add more power and body movement
The Balls can be hard on the fists when used for long periods of time, if this gets to be a problem use  or BOXING GLOVES
or HAND WRAPS
Training Plan
There are recommended training plans:
Get a TIMER, put it on for 2-3 minutes and keep hitting the reflex ball. Do this for 4-6 rounds for a total of 8-18 minutes
Repeat this a minimum of 3 time a week,
Within a month you will make great progress
The above is the recommendations from the manufacturers and I have used this and found it to be very effective and fun you just need to be consistent, missing the odd session is not a problem or mixing it with other exercise like shadow boxing or heavy bag work. Which is what I do as I like to mix up my training to keep it interesting.
Once you get established and master the ball you can then design your own training plans to suit you and have this wonderful training tool for your martial arts training, I can personally recommend it to anyone does martial arts or just want to get fit in a fun way with one of the latest MMA/boxing training aids on the market.
CHECKOUT MY BASIC TYPES OF BOXING PUNCHES POST
Champs MMA Training Video
I Got my Champs MMA Boxing Reflex Ball
I first bought my Champs MMA boxing reflex balls about six months ago. It came in the box and was a very easy to assemble having the full instructions for me to work from which is written well and easy to understand. After, completing the assembly (taking minutes. I was then able to start my training and follow the instructions which were again great I found it little awkward to begin with, but after consistent dedicated training I manage to get in a rhythm hitting the ball and this was only an hour of training.
Working very slow with the beginners ball I continued throughout the week with the black ball. I found working low and slow was the best way to get started and develop, once you have master this you can move up higher. When you get comfortable you will be able to move onto the more advanced balls and Improve your skills working your way through the balls and improving all the way. I would say it took one month to master the balls to a point where I felt comfortable. I now train with all the balls and I have integrated reflex training into my own training. As a martial artist this training equipment is amazing and will keep your reflexes sharp. Great for solo training to work on your speed and reflexes/ reactions.
I found the Chaps MMA Reflex Ball to be a great full body workout, once you start moving round while using the balls you will find the whole body gets an amazing workout! great for loosing weight see below: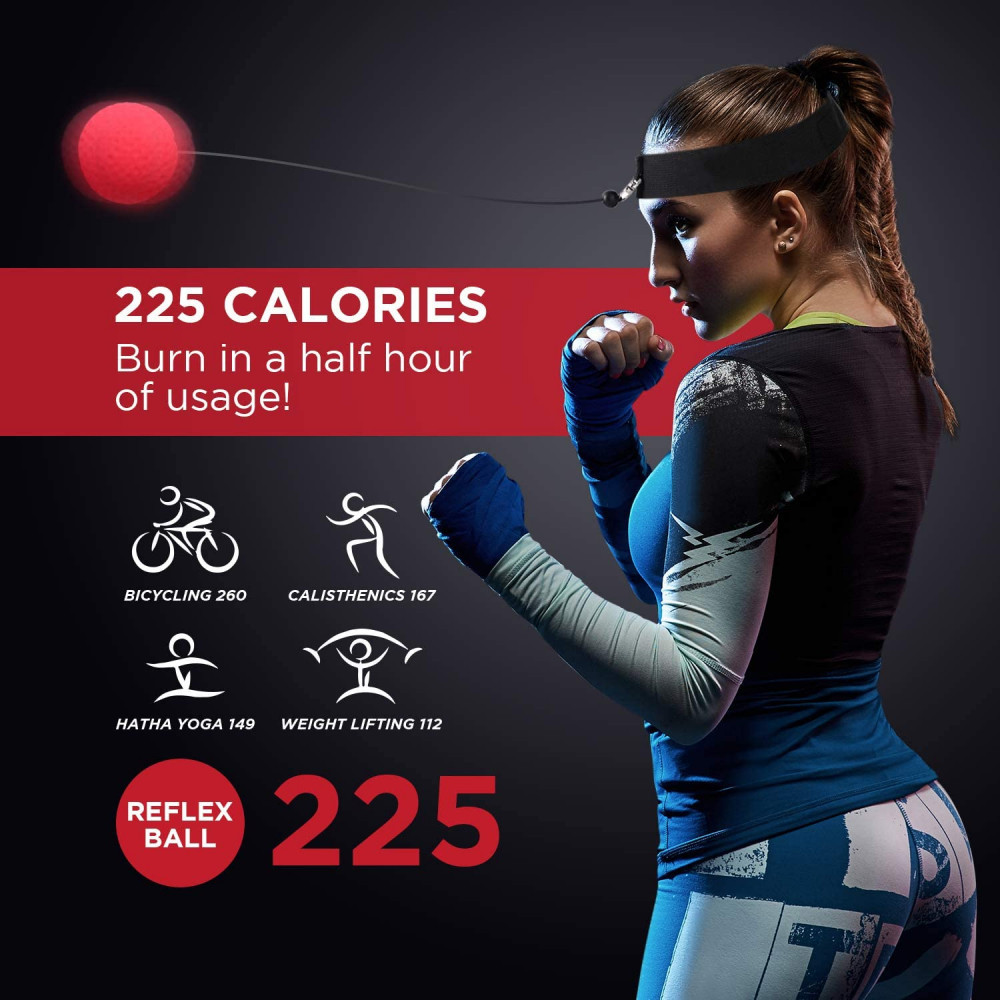 I also use this as a great warm up before moving onto the heavy bag
Click The Picture Below To Buy Your Champs MMA Reflex Ball
Conclusion
The Champs MME reflex ball is an amazing training aid and I found it very helpful with maintaining sharp reflexes which is what you need as a fighter or martial artist. This equipment is also great for anyone looking to get into shape and have fun while doing it. Ideal for adults or kids.
A must have for anyone does boxing, kickboxing or martial arts where punching is involved as this will improve your reflexes and speed to no end. Great for fitness as you build up a rhythm constantly moving, punching and developing skill.
As mentioned above this equipment is very easy to assemble taking minutes and easy to use after getting competent.
The cost is currently only £15.99
I have added it to my personal training schedule along with the equipment I have for training things like skipping ropes, weights, heavy bag, pads etc. It's great to have some of the most current and creative training equipment on the market and keep up date with training equipment keeping you in the modern times.
I hope you have enjoyed this article and would love to hear your experience with this equipment if you have one or another type. Please leave your comments on the box below.
Train hard, focus and practice
Wince 🙂
Please follow and like us: