We are going to look at one of the most popular Shaolin books on the market, by one of the most respected Kung Fu Grand Masters and a writer of many books. This grandmaster travels and teaches all over the world, This shaolin book covers many subjects and is a comprehensive program for physical, emotional, mental and spiritual development. The book is `The complete book of Shaolin by Grandmaster Wong Kiew Kit.
Quick Overview
This Shaolin kung fu book can teach you the best martial arts in the world. Not only does this book contain shaolin wisdom and practice, but also information on chi kung and zen. Also, covering many other topics such as poetry and enlightenment. This is an amazing shaolin book.
Included in this book is the background and scope of shaolin, form and combat applications, principles and methods of force training, the secrets of the masters, traditional Chinese weapons, maintaining one's health and vitality and the healing of the so-called incurable diseases, interesting stories and legends of Shaolin and Zen and spiritual development.
Grandmaster Wong Kiew Kit
Is the fourth generation successor of venerable Jiang Nan from the famous shaolin monastery in China.
Grandmaster of the Shaolin Wahnam Institute of /kung Fu and Chi kung.
Chi kung master of the year 1997
Teaching for over 3 decades
What`s in this book
A Heavenly Vision
The Fabulous Shaolin Monastery
Fit for Emperors and Generals
Movements of Health, Vitality and Longevity
Poetry of Strength and Courage
Form and Function in Motion
Fighting in Beautiful Movements
From Kung Fu Form to Combat application
From Arranged to Free Sparring
Further Training for Effective Fighting
Creating opportunities to Secure Victory
Fascinating Force of Shaolin Masters
Principles and Methods of Power Training
Secrets of The Energy Masters
The Fast, The Agile, and The Marvellous
Dragon, Phoenixes, Tigers, and Moon
Chi Kung and Other Arts
Wonders of Shaolin Chi Kung
Curing Incurable Diseases
The Internal Cosmos
If You Have Broken Your Bones
The Songs and Poetry of Shaolin
The Divine and The Cosmos
Various Vehicles of Enlightenment
Ancient Wisdom on Modern Science
The Beauty and Profundity of Zen
Methods of Zen Cultivation
In Search of Shaolin Masters
You can see from the list above this book has an amazing amount of Shaolin knowledge, wisdom, information etc as per the book title this is the complete book of Shaolin. The information is authentic coming from a direct the fourth generation successor to the Shaolin Monastery in China.
Each of headings above on average have 7 sub-headings, there is a lot of information here in this great shaolin book.
Great for use as reference if you train in any of the Shaolin arts.
Wonders of Shaolin Chi Kung
If you have a level shaolin chi kung this will aid your ability to harmonize your vital energy with the cosmic energy linking your physical development with your spiritual development.
Those who practice kung fu have found that doing chi kung has helped their martial art, things like iron shirt chi kung, iron palm etc. Chi kung and kung fu are meant to be practiced together improving your fighting skills, this section covers this in more detail If you practice kung fu and are not doing any chi kung I think you should look at learning some exercises and combining them with you kung fu. Classic kung fu which I used to do had the chi kung exercises integrated into the style so if you are looking for a kung fu school check if they have chi kung exercises in the syllabus.
Some practitioners have reported some amazing effects such as time travel and passing energy through walls. I myself know former kung fu seniors I used to train with years ago having some of those experiences.
If you are going to take up chi kung you must ensure you find yourself qualified experienced instructor. As they could be some side effects from wrong practice.
The Eighteen Lohan
The Eighteen Lohan Hands is the back bone of shaolin chi kung, this fully explained in this section, you will also learn about Zen.
Grand Master Wong Kiew Kit, is more known for his Chi Kung at this stage in his martial arts, I have personally been to a number of his seminars which I found to be very interesting he taught some for the classic chi kung exercises which I still remember to this day.
Learn the legacy of Bodhidharma, the full history is detailed including dates times and all the chi kung training exercises trained followed by a full list and photos of Grandmaster Wong kiew kit demonstrating each movement of the eighteen lohan patterns.
This section has special exercises for self-manifested chi movement there are a totals of 5 exercises with full instructions that you can use the instruction here to perform and experience the self manifestation, This will enable you to experience the gentle flow of chi for yourself.
The above is to give you a quick sample of the amazing information within this book, to get all this knowledge in one place.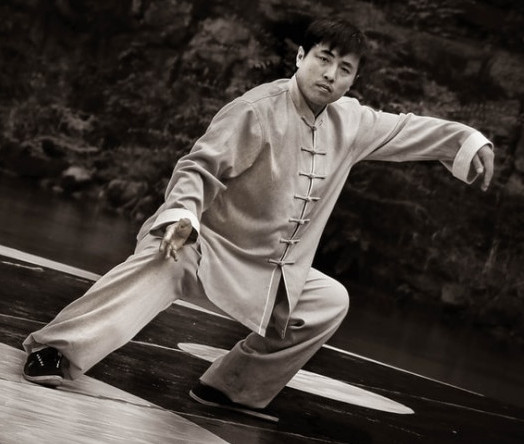 Movements of Health and Vitality and Longevity
This is a great short chapter providing you with information about how the Chinese look at the concept of health and energy covering mind, body and spirit. Once you read this chapter you will be able to appreciate this subject from the Chinese point of view. My own personal interpretation is prevention is better than cure. There is truth in this, and exercise is a way of life no matter what age.
This section also has two of the most effective chi kung exercises fully explained with text and step by step pictures of Grandmaster Wong Kiew Kit performing those exercises. Chi kung is for everyone no matter on age or physical ability these exercises are ready for anyone to practice, exercise as I always mention to get the full benefits you will need to be consistent.
I will not spoil the surprise by naming the exercises, but let you order you book below if you decide to purchase a copy. You can then help your body prevent illness and disease by reading this chapter and following the instructions.
Chi kung is said to cure illnesses, prevent illness, increase self-resistance, great for mental and spiritual capacities, reduce stress and balance your energy flow.
Simple and effective exercises recommended by Grandmaster Wong Kiew Kit to energize helping you stay healthy.
Looking to learn from Grandmaster Wong Kiew Kit`s instructors checkout below:-
Shaolin Waham Institute list of certified instructors
Training for Effective Fighting
Martial Arts
This chapter is great for all martial artists, learn the importance of combat sequence training and set sparring, There is plenty of sets for you to practice and learn again, with step by step photos.
Learn the three fundamental skills in combat, these points are again great for any martial artist giving you something to work on in your training whether you practice kick boxing, judo, karate, street self defense etc these fundamentals apply!
Those sets in this chapter is amazing with great kung fu moves that are authentic all the way from shaolin, this may inspire you to find a Chinese kung fu school: checkout Shaolin Waham Institute list of certified instructors for grandmasters Wong Kiew Kit`s teachings
Buy your copy of THE COMPLETE BOOK OF SHAOLIN click the picture link below:
Conclusion
This is an amazing book covering all you need to know about Shaolin with 28 Chapters and 347 pages packed with plenty of information in text and photos.
I would recommend this book for the following:
Anyone does Chinese Martial Arts
Kung Fu Practitioners
Fighters
Chi Kung Practitioners
Anyone looking to improve their health
Anyone looking to improve their self defense
GET ALL YOUR MARTIAL ARTS EQUIPMNENT HERE NOW!
Many subjects are covered in detail, I found it to be a great reference book,
I have taken a detailed look into a number of chapters to given you an idea of the quality of the information and what you can learn from this book.
Each chapter is well written and information is great, I would recommend reading the chapters which interest you most or what is more relevant to your needs for example kung fu, chi kung, Chinese weapons, shaolin history etc first.
Hope you have enjoyed this post and it has inspired you to take up some form of Shaolin exercise, to help you to stay healthy or you may just be interested in Shaolin history or shaolin monastery or how to develop more power etc please refer to the list above for what's contained in this book.
Please let me know your thoughts and your personal experience on this subject or if you have any questions or comments, please leave those in the box below:
Train hard, focus and practice
Wince 🙂
Please follow and like us: