Best skipping ropes for martial arts, weight loss and cardiovascular fitness. We aim to save your time and money but still recommending good quality skipping ropes which your can use for your martial arts fitness training. With many skipping ropes to choose from its best to purchase highly recommended skipping ropes.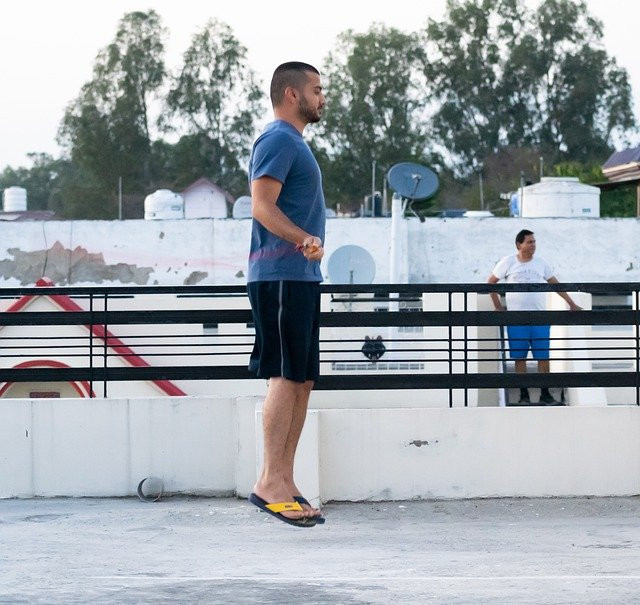 Benefits of Skipping Rope for martial artists
Improving your mind as with most exercise skipping ropes for your martial arts will lower your stress levels like going for a long run but skipping can be done in a shorter time to get those benefits. As an individual training exercise you will be able to take things at your own pace which means skipping is great for any fitness level. With regular sessions your will improve your muscle tone.
As skipping is a weight bearing exercise like strength exercises it will improve your bone density, which is great for martial arts as having strong bones will be a great advantage. Due to the cardiovascular effect of skipping, raising of the heart rate this will help lower your blood pressure and improve your heart health as long as you are consistent in training (just a reminder to always consult your doctor before starting any new exercise programme.
What ever martial art you do skipping is an easy way to keep your fitness level up without spending too much time getting prepared or traveling to the gym. It is also good as a martial artist to always vary your workouts and skipping rope would be a great variation to say a run.
skipping rope is a cost effective workout all your will need is the skipping rope and the space to train. You could skip rope in your home or garden, or what I do is go to a local public green space and not usually to far away. With the skipping not as shocking on the joints as running your may prefer to skip on occasion.
Some main benefits for martial artist will be coordination: hand and feet, Stamina and focus. It is also a full body workout. Great for burning around 200 to 300 calories in 15 minutes, saving your time in your workout.
For more great information on skipping checkout: THE BRITISH ROPE SKIPPING ASSOCIATION
Beast Skipping Rope by Beast Gear
.
This Beast rope, skipping ropes for martial arts is great and is recommended for Martial arts, Boxing, MMA, and HIT Interval training in regard to martial art, Also recommended for fitness and weight loss. This come highly recommended with over 3,500 reviews which indicates this is one of the most popular ropes on the market at this present time as there are not many with such a high number of reviews and predominantly positive.currently with a great price discounted by 77% go to the link below to see more.
Lightweight, strong, flexible, with a protective coating for durability, ideal for men. Women and children customize the length with built anti tangle mechanism. It also comes with its own carrying bag.
=>CLICK HERE TO BUY NOW, YOUR BEAST, ADJUSTABLE FOR MEN, WOMEN, BOYS & GIRLS SKIPPING ROPE<=
Gritin Skipping Rope for Boxing and Fitness
This skipping rope is recommended for boxing and fitness and comes with soft memory foam handles. Having over 8,700 reviews predominantly positive and again the high number means many buyers and happy with this popular skipping rope. You can rest assure they are good quality. With an amazing low price (Click on the link below). Adjustable PVC Coated steel wire making this skipping rope strong and durable. With smooth spin due to bearing design, fully adjustable to suit your needs.
=>CLICK HERE TO BUY NOW, YOUR GRITIN, ADJUSTABLE FOR MEN, WOMEN, BOYS & GIRLS SKIPPING ROPE<=
Multifun Skipping Rope for Boxing and MMA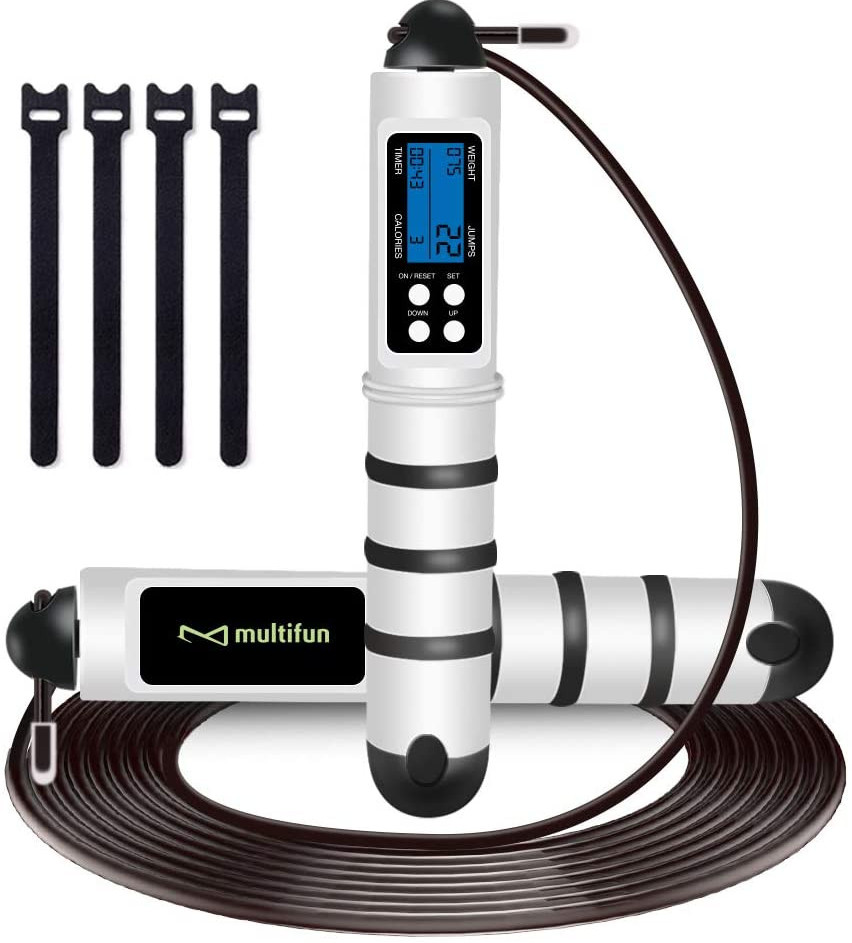 This Multifun skipping rope is great, this will help your keep track of your progress, working out the calories burnt on your workouts which you will be able to see on the LCD display, the amount of jumps you have completed and jump rope speed, There is also a timer with an alarm feature which can be programmed to count down. Recommended for Boxing, MMA, HIT interval training, This skipping rope is also popular and has been purchased by many happy customers.
Bearing design for smooth operation, durable materials made of steel rope protected by PVC and suitable for hard surfaces outside: tarmac, pavement, patio etc.
This skipping rope also comes with a quality guarantee which means if you are not 100 percent happy on purchase the will give your a full refund. You will also get lifetime support from the manufacturers and a 30-day money back deal with 2 years warranty. Please checkout the link below for full details
This skipping rope is currently on sale at a fantastic price
=>CLICK HERE TO BUY NOW, YOUR MULTIFUN WITH CALORIE COUNTER, TIMER, ADJUSTABLE AND MORE FEATURES SKIPPING ROPE<=
TOQIBO CORDLESS Jump/ Jump Rope.
The TOQIBO skipping rope is recommended for boxing, fat burning and fitness workouts this is a Cordless Jump/Rope Jump. I have never personally had a cordless skipping rope before but I can see the advantages like great for beginners to skipping, great for children, you may have low ceiling at home or not enough space, you may not have the private outdoor space. Great for kids as they can skip without getting tangled up with this cordless design.
This skipping rope is also popular and has been purchased by many happy customers.
With LCD display to track your progress and motivate you, letting your know how many jumps your need to do to burn the right amount of calories. Being easy to adjust makes it ideal to interchange between anyone tall, short, adults and kids.
=>CLICK HERE TO BUY NOW, YOUR TOQIBO CORDLESS FOR MEN, WOMEN, BOYS & GIRLS SKIPPING ROPE<=
Conclusion
Skipping ropes for martial arts, There are many skipping ropes on the market and the units above are among some of the most popular and value for money.
Skipping not only good for martial artists but great of full body workouts, fitness, cardiovascular health, coordination, and stress relief,
Skipping is a great, easy and cheap workout, without having to travel from your home.
If you are a martial artist its allows great to have a skipping rope in your kit bag, they are great for warming up before your training session.
You may also want to check: Martial Arts Exercises
Let me know your thoughts, and how your incorporate skipping into your routine, go to comments below
Train hard, focus and practice
Wince 🙂
Please follow and like us: